We make modular, planet-positive bags and backpacks, inspired by mission-driven work & travel.
We're also identical twins, activists, and professional change makers who've traveled thousands of miles on buses and trains to fight injustice.
During our travels and work commutes, we found ourselves carrying heavy, bulky hiking backpacks or delicate designer bags, due to the lack of a bag or backpack that could do it all.
While our "Dora-the-Explorer" hiking backpacks were able to fit more of our belongings, it lacked the polish and style that we wanted to express ourselves (no offense, Dora). On the other hand, our "work" tote bags felt like heavy, all-too-familiar black holes that lacked the organization and comfort we needed for our busy days.
It didn't feel right that we, along with all of the women we create for, had to make these compromises. We started PRISM Bags to offer an alternative: functional, high quality tote bags and backpacks that empower your day-to-day, while doing better for the planet.
Designed in Los Angeles, produced by world-class factory partners
It all begins with thoughtful design. We conduct rigorous user experience research to better understand the needs of our users. To bring our concepts to life, we collaborate with BIPOC designers from big names in our industry such as Kate Spade, Tory Burch, and Karl Lagerfeld and create our prototypes in Downtown LA.
We produce our bags in small batches in China that comply with the highest fair labor standards and produce quality products for the world's leading bag brands.
For more information on production, please see our FAQs.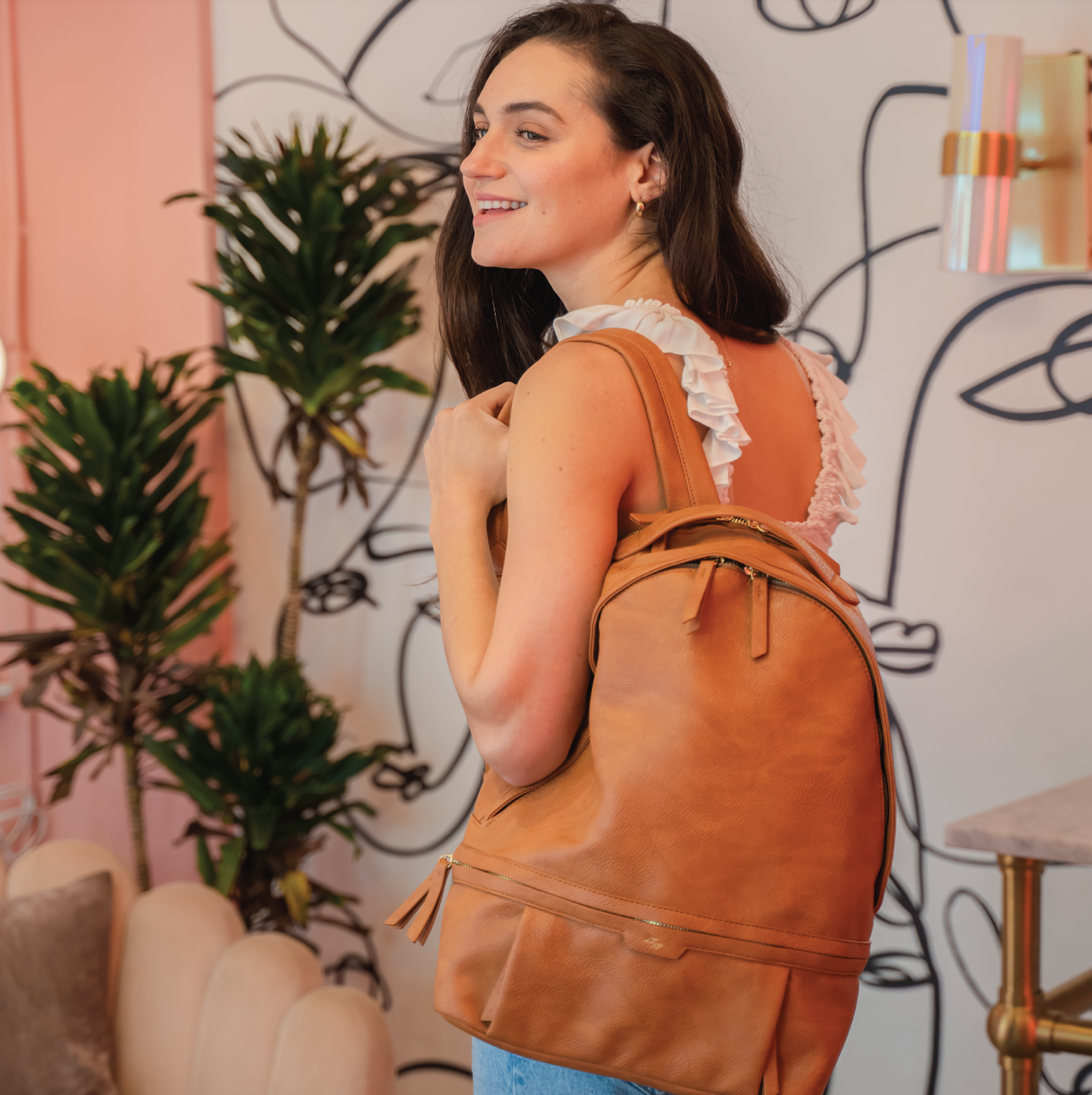 Innovative Vegan & Sustainable Materials
We select the best materials available for our bags and backpacks that are made from recycled plastic bottles and organic matter such as fruit peels.
Our favorite part? We love turning heads and the double take of people asking, "Is that really vegan leather? It feels better than leather!"
Mission-driven partnerships & low footprint retail experiences
We launched a partnership with Alltrue (formerly CAUSEBOX)! We sold out of our inventory in 48 hours and we LOVE aligning with brands and consumers who share our values.
We loaded up Rachel's mini SUV and delivered 8 moving boxes full of our products.
We also participate in pop-up markets around the West Coast! We're dedicated to creating innovative experiences for our customers to feel, test, and purchase our products. Scroll down to see the wonderful, community-driven pop-ups we're regularly in.
Our Retail Pop-ups